When people talk about the greatest and most dominate athletes of all time you hear names like Michael Jordan, Wayne Gretzky, Michael Phelps, Rocco Siffredi, or even Tiger Woods. But now the name that I believe should ring the loudest is Joey Mother Fucking Chestnut.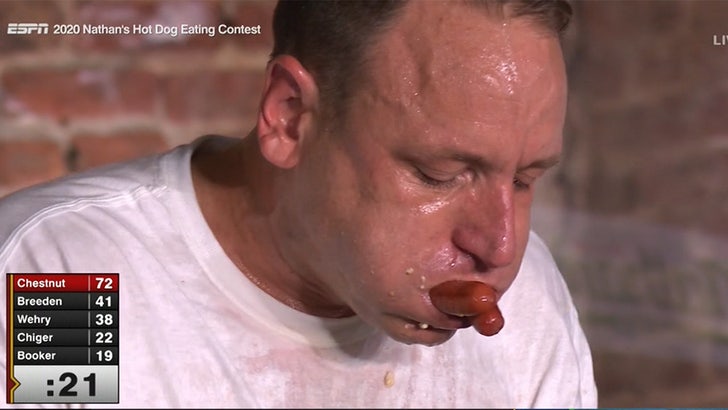 75 hot dogs. Seventy Five hot dogs. Michael Jordan only scored 69 points in a game. A game that was 48 minutes. Joey had 10 minutes to eat hot dogs, and he threw down 75. If he had 48 minutes by my math he would have throated at least 360 dogs. That loser Michael Jordan couldn't throat 360 dogs if his life depended on it. Michael Phelps probably could get close because that moron swims with his mouth gaping open like a baleen whale. So I guess if you just floated hot dogs in his path he'd probably just keep swallowing them. Tiger Woods couldn't eat that many dogs in a year. But he could probably stuff that many down the throats of south Florida waitresses.
I saw this on Twitter by @FieldYates and it really cemented my points.
Most championships/titles in a single event:
1. Joey Chestnut: 13 (Nathan's Famous)
2. Rafael Nadal: 12 (French Open)
T3. Margaret Court: 11 (Australian Open)
T-3. Bill Russell: 11 (NBA title)
T-3. Henri Richard: 11 (Stanley Cup)
The only thing missing from that list was Tiger Woods 15 Major Championship wins and Rocco Siffredi's 36 AVN awards.
Over Joey's long and storied career he holds 49 records. These records include:
47 grilled cheeses in 10 minutes
118 jalapeno poppers in 10 minutes (can you imagine the heat coming off that shit? I hope he wiped with the coldest of toilet paper)
138 Krystal Burgers in 8 minutes (these are pretty much White Castle burgers but with mustard instead of ketchup- small fun fact, I ate these every night while in New Orleans and didn't have diarrhea once. Leading me to believe that the diarrhea is caused by the ketchup)
53 soft Taco Bell beef tacos in them in 10 minutes
141 hard boiled eggs in 8 minutes
121 Twinkies in 6 minutes
32 Big Macs in 38 minutes
Sure, I know some of the other athletes that I've mentioned hold a few records in their sports, but no one holds 49 records. And Joey Chestnut shows zero signs of stopping.